Lamoille River Paddler's Trail WaterProof Recreation Map and Guide
The most complete and river-ready resource for your river adventures! This map guides paddlers, anglers, and river enthusiasts along 85 miles of Vermont's picturesque Lamoille River, one of the finest paddling and angling rivers in the state. It includes all access points, campsites, portage trails, and information on the area's natural and cultural history.
This map was developed in partnership with the Vermont River Conservancy and the Northern Forest Canoe Trail with the assistance of University of Vermont students Evann Grabow, Matt Fidler, Benjamin Greenberg, Hunter Garland, and Emily Preston. Cover created by Alden Ducharme of Johnson State College. Funding was provided through a 2018 Local Heritage Grant from the Champlain Valley Natural Heritage Partnership. Cartography by Noah Pollock.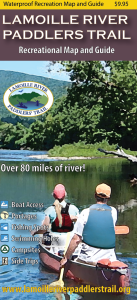 Unique design details include:
Waterproof, ten panel, two sided map covering 85 river miles
All river based recreational facilities (Access points, primitive campsites, campgrounds, portage trails, outfitters, points of interest)
Other recreational opportunities (side hikes, bike paths)
Fishing access and fish species information
Natural and cultural history insights
River mileages
Recommended river trips and their durations
Here are two glimpses at the map panels:
Pick up a copy at Umiak Outfitters (Stowe), at the Vermont River Conservancy's offices in Montpelier or order online today!